A celebration is never complete without good food and tasty drinks. But if you lack time or skills to make a luxurious banquet for your guests, here's our solution for you. Savour a Christmas and/or New Year's feast from Dagher Catering's specially assorted package with a perfect 50% off the initial deposit. Choose between $25 instead of $50 for 5 pax and $50 instead of $100 for 10 pax. Coupons valid until January 7, 2013.
Become the best host of the year with the help of the chefs at Dagher Catering, and amaze your family and friends with a perfectly made dinner to savour. To top it all off, Dagher Catering will offer in additional Christmas decorated Bûche de Noël, because there is always room for some Christmas dessert!
All you need to do is choose one of the main courses below:
Filet à l'ancienne, 2kg of delicious beef cooked with a special vegetable sauce, and potatoes
Poulet à l'orange, tasty chicken dipped in orange and wine sauce, served with rice
Oriental Turkey, 4.5 kg of traditional Christmas stuffed turkey, served with rice and special sauce, and decorated with trimmings
In addition to the main course, you will receive an assortment of side platters:
Potato Shrimps (with sweet & sour sauce)
Crispy Chicken (with honey mustard sauce)
Mixed Bouchées (A la Reine, Tuna, Chicken)
Christmas Salad (assorted coloured lettuce, cherry tomatoe, etc...)
Stuffed Pastries 

(Pizza and Hot Dog)

Cheese Platter (2 kinds of cheeses with herbs)
Kibbit Samak (Tajen with Almonds & Pine seeds)
Plus a Free Bûche de Noël from the famous Dagher Patisserie.
The rest, leave it to the exquisite taste of the Chef, and the merry spirit of the celebrations!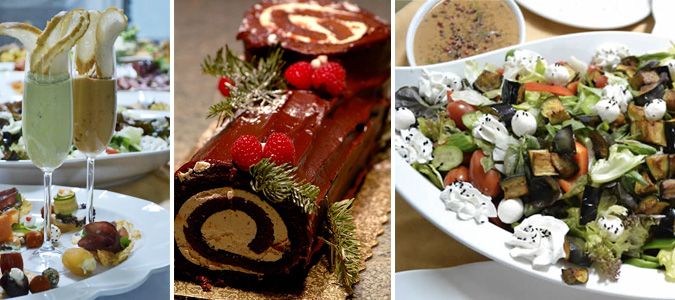 Check out more photos and info abou Dagher Catering here!